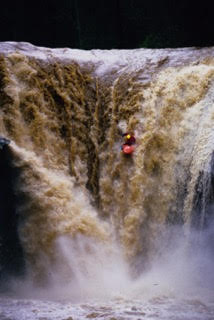 Stinging cold wind burned my face. The freezing water of the Green River shocked my bare hands, but I pulled my neoprene gloves off. I was about to get in the ring for some high stakes bare knuckle boxing. The river was high, 21 inches on the gage (a normal summer release is seven inches), and I was above Gorilla, the biggest rapid of the day. I was fucking scared. I felt fear and apprehension sliding up my gut and into the back of my throat, but I swallowed, forcing doubt down. A few deep breaths and I entered the first ledge. In seconds I was flowing downstream, dancing with an untamable force of nature. I dropped off the main event, a narrow 15 footer, right where I wanted to be. Landing in the final eddy below the last big holes, I pumped my fist in the frigid air and shouted out "Woooohooooo". Euphoria flooded me.
We were a group of nine, but only three of us tangled with Gorilla that day.
Just prior to that run, my wife had asked me "What do you do now for your dopamine fix?" in light of the fact that I don't push my limits with the frequency I used to. I tried to come up with a good answer (endurance sports, picking hard lines in easy rapids, etc.). But after that day I came home with the real answer. "You don't replace that level of paddling with anything".  And not just any rapid demands that level of commitment.
There are hundreds of Class V rapids in Western North Carolina. But there are a few drops that dwarf the rest. These are the rapids that the best of the best often leave for another day, the ones that leave the majority of even the strongest groups standing on shore. I interviewed some of the South's most prolific paddlers to come up with this list of  the hardest, meanest drops in the state.
Class V+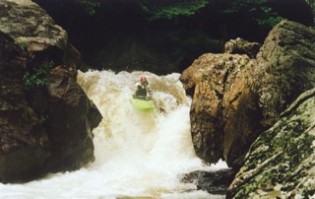 These rapids are run with some frequency, but for many takers they are career defining.
Gorilla at 200%: Gorilla may be the most famous rapid in the country. It is a staple of the southern creek boater's diet; particularly in the summer when other streams are bone dry. But when the power plant upstream is releasing 200%, or double the normal flow, it enters an unrivaled realm of intensity. The entrance above and slides below the main drop morph into one another, forming a multi-move cascade with a raw power that sends most boaters for the bank. I can attest to the difficulty of this set-one high water season, I swam out of the bottom hole three times.
Nutcracker: Gorilla, Sunshine and Go Left and Die are together considered the "Big Three" rapids of the Green. Add Nutcracker to make the Big Four.   Although in its current incarnation it is a wood clogged mess, at times it is runnable. The tight slot twists 90 degrees as it drops through a boulder pile with a shallow landing. A clean line is imperative due to the pinny run out that dumps into Groove Tube and Sunshine.
Drunk Tank: The Linville River has more Class V rapids than any river around, but Drunk Tank stands out from the rest. It features a stompy hole with a narrow exit between a rock and an undercut room that looks fatal. Local boater Mark Taylor related the story of his first Drunk Tank run at low water. "…I instantly got stopped in the first hole. It typewritered me into the fan rock. I figured it was a pillow and held a left brace to try and counteract it. It rocked me so hard I saw stars. I got knocked out briefly before I came to, and was struggling to roll up on the left wall. After carping a few rolls, I finally rolled up and paddled off…"
Eclipse and Next Time: So called because it eclipses Sunshine on the Green, the Lower Cullasaja is home to this gradient storm. First run accidently in the 90s, Eclipse is long, tall and ugly. A sharp turn leads to the crux 15 footer with plenty of consequence in the run out. One of my buddies once pinned in the vertical crack below the big drop. I had already run it and was waiting for him below. His helmet floated off the bottom drop sans paddler, then his sprayskirt, paddle and boat followed suit. Seconds later he swam off the ledge, leaping for shore. He was badly shaken but uninjured. Next Time (as in "I'll run it next time") is immediately below Eclipse. It is a 10 to 15 foot ledge with a shallow, undercut landing.
Anaconda: "The Snake" as it is affectionately known, is on the Raven Fork Gorge in the Smoky Mountain National Park. A tricky eight foot ledge leads into a winding corridor full of potential problems. Not only is it the first rapid on Raven Fork, it is at the put in. No time to warm up for this one.
Mike Tysons Punch Out: The Raven Fork is home to some of the some of the steepest whitewater in Carolina, and for most paddlers Mike's is the biggest rapid of the day. The 50 foot slide throws it all out there, with a stacked entrance and massive curler that was made to flip kayaks. Hold on tight and brace yourself for the climax, a steep 20 footer.
Energizer: The Toxaway River is unique in Appalachia due to a dam breaking loose decades ago and flooding the river bed. The result is several miles of scoured bed rock. That does not make it clean though. Energizer lives up to its name. The sliding crack drop just keeps going and going. It goes right into a big flake rock that shoots a rooster tail 10 feet into the air. Though it is run frequently, no one takes it lightly.
Trash Can: This high country special has been a long time favorite of the Boone/App State crowd. It is on a tiny tributary to the Watauga, Laurel Creek. The drop is anything but tiny. It sluices through a boat wide slot, dropping ten feet onto a big slab that slides down the mountain. It goes better than it looks though.
Next Level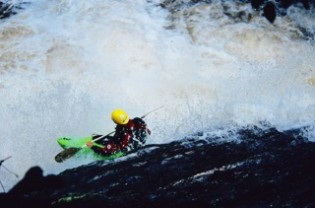 These drops are beyond Class V. If there is such a thing as runnable Class VI, this is it.
Hale Mary: Every rapid on the Raven Fork has been run. Hale Mary, named after Jason Hale made the first descent, has been run at least a few times. It is a hideous, sieved out boulder pile, full of pin potential.
The Mangler: Also on Raven, professional kayaker Pat Keller ran it first, at the tender age of 15. He describes it as "two drops with around two boat lengths between the landing of the first drop and the launch off the second. The really aesthetic thing about this rapid is the way the first drop twists to the right, and the second to the left. That sounds all fun and good but there are a few issues. Part of the river goes underground between drops one and two, so no swimming allowed. The second drop lands on a weird block rock to the river left, and what doesn't boil up from the rock is jammed way down into a pothole/crack center to right. On top of all that is the huge log that blocks the bottom of the crack." It has seen at least four more runs since Keller's first descent (one unintentional). Unfortunately it has changed for the worse and is now "completely unrunnable" according to Keller.
Death Penalty: Almost everyone who runs Linville looks at Death Penalty, a standard portage, and thinks "It might go with enough water". It does, but the line is thin and it lives up to its name. At high flows it is a big, marginally covered sieve. It is not recommended, but it has been run at least three times in the last 10 years.
Seal Launch Portage: This is another Linville drop that people look at with curiosity. I confirmed one descent, at high water, by Mark Taylor. Most people who run Linville don't run it with enough water to consider this heinous drop. And most people who run Linville high enough will already find their threshold for adrenaline in overdrive by the time they get there. But Taylor proved that the move over a 10 footer and past a terrible room of doom is possible.
Mini-Gorge: The Whitewater River, in the Lake Jocassee drainage, is known for high adventure. It delivers more than most can handle right off the bat with the Mini-Gorge. Keller describes it: "For almost a hundred yards the entire Whitewater River funnels down into a crack that is only 3 feet wide in places and drops precipitously down the mountain". Multiple steep, potholed drops lead into a clean 30 footer. It is a sweet reward for anyone willing to deal with the stress of the gorge, where downstream is the only option.
Nemesis: The Cullasaja features many marginably runnable drops but Nemesis may be the hardest of them all. It is in an inaccessible, steep, and slick walled gorge. It pinches down into a slot that has dished out as many beatings as the rest of the river combined. Luckily the road is never far, making the portage an easy option. Knoxville local Caleb Paquette, who has run many of the drops on this list, said "Nemesis is definitely one of the most difficult rapids I have run, with multiple moves and consequences. And the road is literally right there making portaging the logical choice. You really have to want it. All that said, I ran the bottom slot backwards and didn't get my face wet."
40/40: Half waterfall, half rapid, 40/40 on Toxaway saw several descents in the early 2000s but since then has fallen out of favor. One of Keller's personal favorites, he says "There's just no way to make it clean and not take a hit. Fall off the right slab and you get this gnarly change of direction that tries to unhinge your lower back from your hip." It is also in an incredibly remote spot with limited access.

Waterfalls
There are not many runnable waterfalls in WNC, and the ones people run tend to be anything but clean.
Big Boy: The marquee drop of the Raven Fork, Big Boy is a 25 to 30 footer that lands on rock. There is a clean line, but the landing is extremely tight. It used to be portaged more often than not, but now it is dropped with some frequency.
Brick Layer: Another Cullasja waterfall, Brick Layer is in the 20 to 30 foot range and also lands on a big slab of rock. It has been run many times, but is usually portaged.
Big Falls: The Elk River plummets 50 feet at the put in of the Twisted Falls section. It looks clean but I have seen many errant lines resulting in broken bodies and gear. It falls hard.
Silver Run: Above the more commonly run Whitewater River gorge, Silver Run falls beckons hucksters looking to get loose. The 30 plus footer careens down a steep slide before going vertical. It lands in a dead green pool. At least one run has resulted in a broken back.
Courthouse Falls: The beautiful 40 foot vertical drop on the upper reaches of the French Broad was originally documented on the classic video Southern Fried Creekin'. It comes in when the North Fork is flowing high, but apparently it delivers a big hit.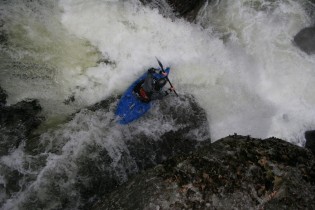 This list is not definitive (Linville Falls, Toxaway Falls, Looking Glass Falls and the Garden of the Gods on the West Fork of the Pigeon have all ben run). There is always going to be someone out there seeking the next big thing. But these rapids and falls have stood the test of time. They will always be hard, they will always be dangerous. Those who step up to them will never forget their runs.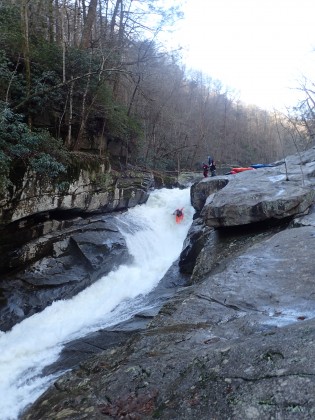 Adam Herzog is a fun hog based out of Asheville, NC. When he's not on a trail or river he can be found stuck in traffic.